Hello Friend!

Did you know this week is Global Maternal Mental Health Awareness week? Yes, moms' mental health is recognized as a global issue by WHO and there is a significant need to improve it. It not only impacts moms but has a ripple effect on society as whole. And it is specifically aligned leading up to Mother's Day to celebrate and honor mothers.
So during Maternal Mental Health Awareness week and leading up to Mother's Day, I want to take a moment to acknowledge and celebrate you

❣️ I see you mamma.
❣️ I see you loving and striving your way through the gift and calling of motherhood.
❣️ You are doing a good job.
❣️ You are enough. And you can do this.

This week, let's focus on steps we can take to honor our own mental health as we navigate motherhood and our journey toward wholeness of life, body, and spirit.

Here are a few practical tips that we can incorporate into our routines this week. When you find what works best for you, take steps to work them into your routines all year long. God created you and your unique gifts to be the mother your children need. Take care of the gift that God gave them.
✨ Put yourself on the calendar. Make time for yourself on a daily basis. This could be as simple as taking 15 minutes at the end of the day to reconnect with yourself and process how you felt during the day. What were your needs? How were they met? How did it make you feel when they were or were not? What did you do with that feeling?

✨ Be kind to yourself. Give yourself grace. We will make mistakes, we are not perfect, and that is okay. Accept your victories and your challenges.

✨ Be kind to other women – you don't know their story: what they are going through, have been through and what they are battling with.

✨ Check in on your mama friends – not just after birth but throughout the motherhood journey. We all need real connections.

✨ Reframe negative thoughts – Recognize the thought patterns that feel heavy and bring you down. And then find a truth that turns them around. For example: 'I am a bad mom.' STOP and REFRAME: 'I am the mom God gave these children. I am just having a hard time.'

✨ Be present – with yourself and others. Fully process your feelings in the moment and do not deny them. When you are with your kids, put the phone down and engage with all your senses.

✨ Know your values – Aligning your choices with your values leads to peace of heart and mind.
✨ Seek support (from your partner, friend or family) or get professional help. As a certified Life Coach, I am here to walk alongside you in this journey of motherhood.
✨ And to all the women who have lost their mom, or are feeling broken inside, who desire to be moms, who have lost their children, or may be alone, you are not forgotten. I see you and I am holding space for you. Sending you hugs and prayers sweet friend❤️‍🩹.
Make your Mental Health a priority. It starts with you. If you take care of yourself, you will show up as a better and healthier version of yourself. Your kids are learning by the example you are living. Make it a good one!

✨ You MATTER 💕
Mother's Day Gift Idea: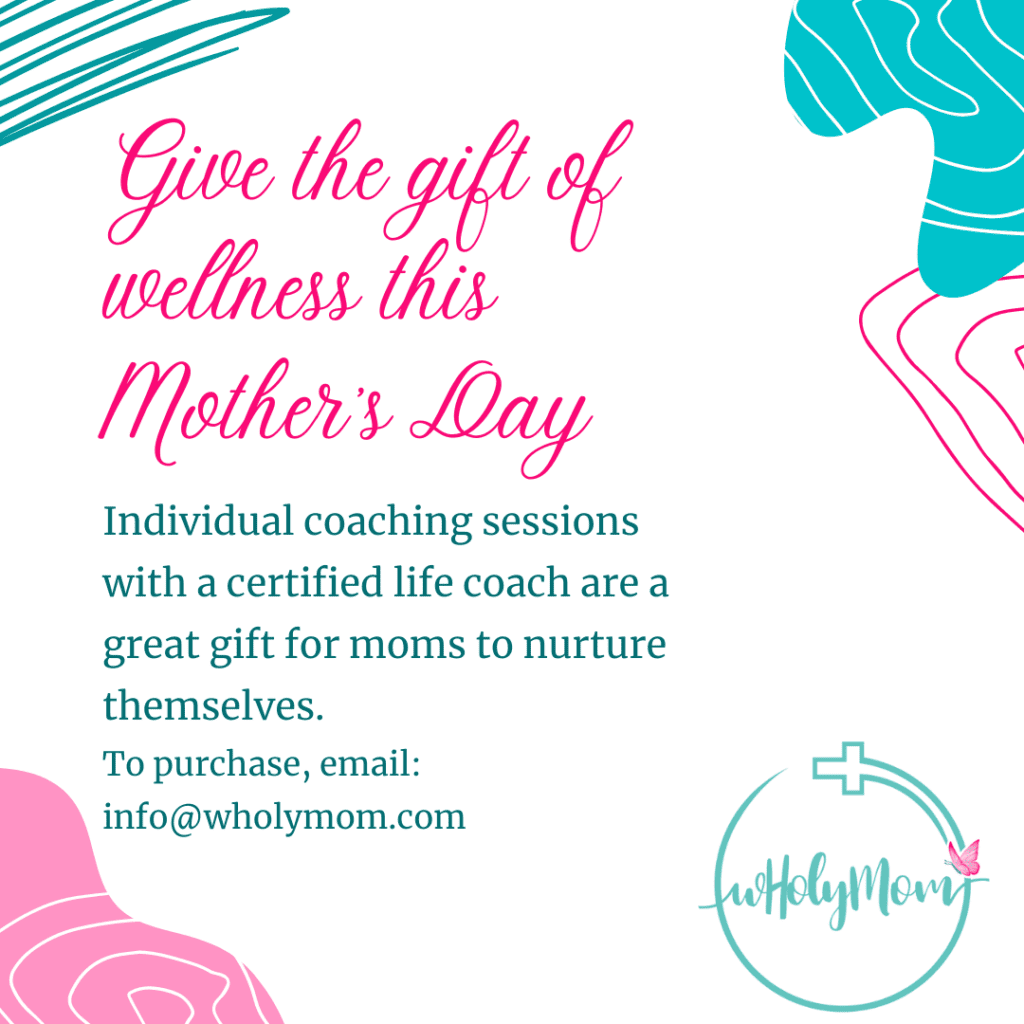 Gift Certificates available here: https://wholymom.com/contact/
Friend, everyone is welcome here. We are on this journey together.
Let's rediscover our true self, reclaim our time, our energy, care for ourselves to be the woman we want to be and most of all THRIVE. So let us rise up and show up as a better version of ourselves.
Wishing you an early Happy Mother's Day!
Have Questions? Send me an email at: info@wholymom.com.
Follow me on IG: @wholymom or Facebook: facebook.com/wholymom.