As we wrap Maternal Mental Health Awareness month, let's raise awareness everywhere for all moms. The global theme for this year is "Stronger Together". Together we can crush stigma and bring an end to the loneliness moms feel. You are not alone. Let's link arms and normalize that "We Are Stronger Together".
Motherhood is a challenging role especially when raising young children. It tests and develops every aspect of a mother's existence. Though it is rewarding, it can often lead to burnout, sometimes depression, isolation and a lack of support. The pandemic has had an adverse effect on mothers as it increased their domestic responsibilities while adding virtual learning and, for some, balancing work from home. It is essential to find a solution to improve mothers' well-being – especially for moms who are on the verge of a breakdown and are willing to recover.
"The phenomenon of burnout refers to a specific syndrome of exhaustion related to prolonged situations of emotional imbalance, where the burden of perceived stress exceeds personal resources to cope with it" (Aujoulat & Hubert, 2018, p. 1) My mission is to teach practical ways to reduce the causes of burnout, educate on the importance of self care, and other issues that may arise during motherhood journey.
Have you heard of Burnout Syndrome (BOS)? Did you know that the World Health Organization recognizes it as an occupational phenomenon? It is defined with the following characteristics: feelings of exhaustion, increased mental distance from one's job, or negative feelings related to one's job and reduced professional efficacy. I think BOS needs to be considered outside of the occupational realm too.
Wouldn't you agree that most, if not all, mothers have BOS as CEOs of their families? And all the mamas said "AMEN"!! In motherhood, burnout may appear as: fatigue, irritability, loss of motivation, increased negativity and/or blunted emotions.
Here are five signs of burnout:
One way we can grow stronger together is by implementing self care. Let's focus on ways to support you on your journey by preventing burnout and implementing consistent self care. You can't pour from an empty cup. And you can't fill a cup filled with holes. You matter, in and of yourself. The loved and cared for, best version of yourself is the best thing for you and your family.
Mental Health Action Day was campaigned on May 19th. Can I urge you today to take small steps everyday and make every day count towards your mental health? Here are a few simple ways you can adopt daily: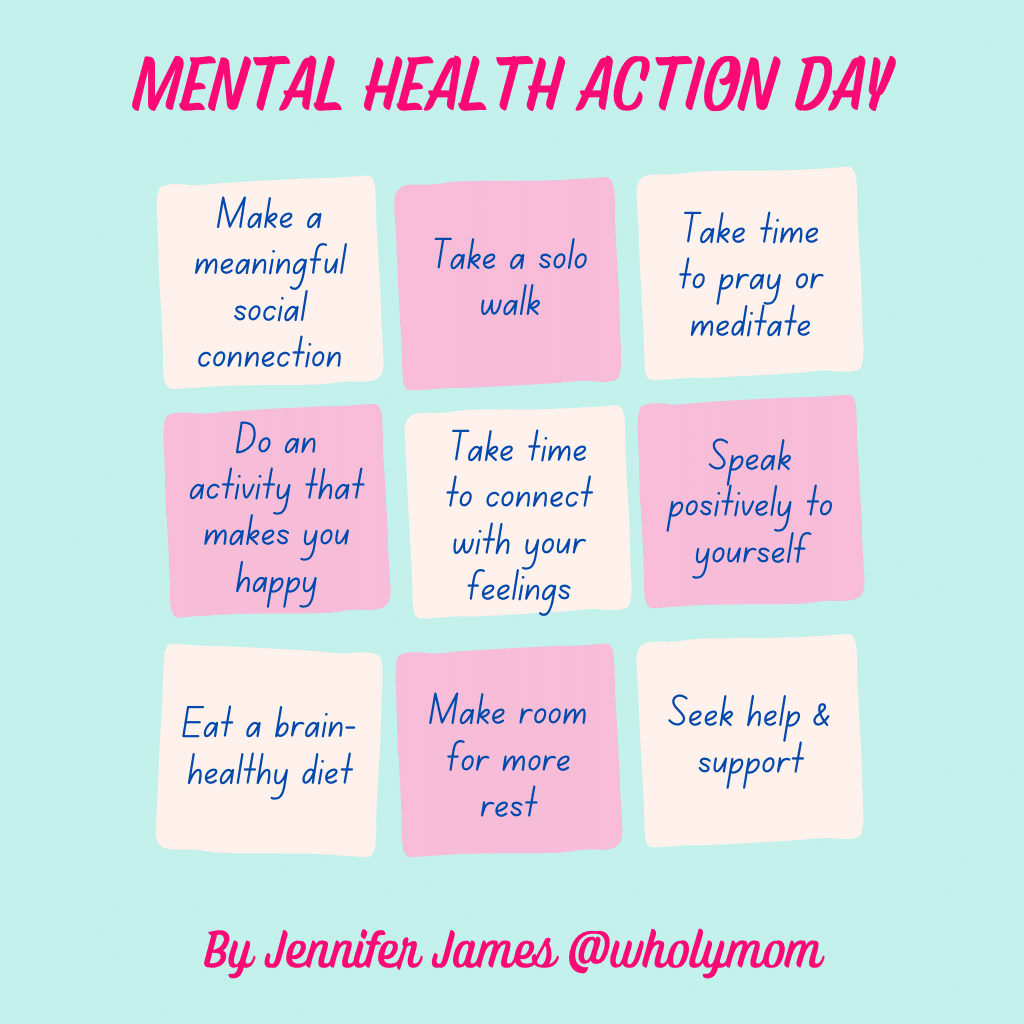 As mothers, you can be supported by equipping yourself with interventions that you can use at your own pace. One of these interventions is the five-step Neurocycling model as outlined by Dr. Caroline Leaf (2021): "gather, reflect, write, recheck and active reach." Here is a brief rundown of the steps for you:
Step 1 (Gather) involves embracing the toxic thought, habit, or trauma
Steps 2 (Reflect) Ask yourself: Why am I feeling this way?
Step 3 (Write) Write down your answers, organize your thoughts.
Steps 4 (Recheck) Look for areas to implement simple positive changes.
5 (Active Reach) Reframe. Set boundaries. Take simple actions regularly to reclaim your balance.
To explore and learn more about Neuroclycling, check out the Resource section below.
Remember friend, keep it simple. Reducing stress should be a relief, not another heavy burden on the to do list. You've already taken the first step, you came here today and you're learning how to do what is best for you. You are amazing. And this is a safe place to be, learn, and grow.
Hope & Encouragement this week:
Take 5 Minutes, find a quiet place. Lean in and listen:
You Are Not Alone.
Reflection Prompt:
~Are my actions, feelings and behavior reflecting signs of burnout?
Resources:
https://www.thebluedotproject.org/raise-awareness
Friend, everyone is welcome here. We are on this journey together.
Let's rediscover our true self, reclaim our time, our energy, care for ourselves to be the woman we want to be and most of all THRIVE. So let us rise up and show up as a better version of ourselves.

Have Questions? Send me an email at: info@wholymom.com.
Follow me on IG: @wholymom or Facebook: facebook.com/wholymom.