Episode 37: Impact of Attachment Styles In Relationships with Dr. Erica Hurley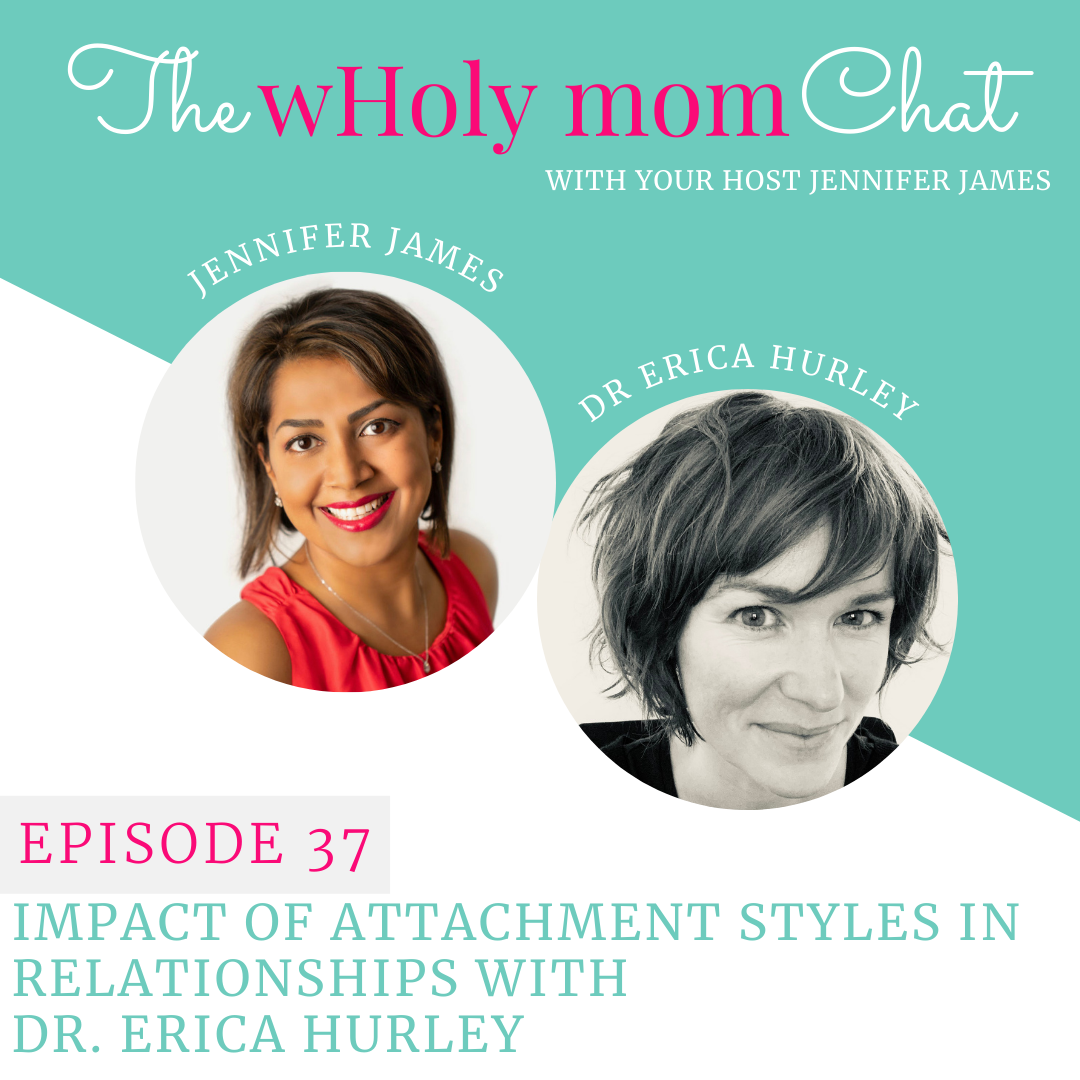 In this episode of the WHoly Mom Chat, Jennifer talks with Dr. Erica Hurley on attachments in parenting. We go over the different attachment styles and how they affect us as adults. We also dive into how we can ensure our children have a suitable attachment to be better adults.
Dr. Erica Hurley is a Licensed Clinical Psychologist. Her office is in Richmond, Virginia, and she is licensed to practice telehealth in 25 other states. Dr. Hurley is one of two psychologists on the east coast specializing in Collaborative/Therapeutic Assessment. C/TA is a brief therapy process that integrates psychological testing to help clients develop a deeper, more compassionate understanding of themselves, their relationships, and their struggles.
Listen in as we talk to learn more about:
Dr. Hurley shares her personal story and journey in parenting.
The different types of attachment styles and how they present themselves.
How can we utilize learning our attachment to improve our relationships?
Dr. Hurley shares her journey of enhancing your relationships after learning about attachment styles.
To connect with Dr. Hurley:
Website: ericahurley.com
To Connect with Me, Jenny:
Follow me on IG: @wholymom or Facebook: facebook.com/wholymom
Have Questions? Send me an email at: info@wholymom.com
To support the show, use Paypal Or Venmo: @wholymom
I want to take a moment to let you know about my coaching services! My mission here at WHoly Mom is to empower women to find and nurture their true selves through the transformation of mind, body, and spirit. I focus on your individual needs and your specific situation to collaboratively create an individualized plan to get you where you want to be. I am currently accepting new clients.
Thank you so much for joining me on The WHoly Mom Chat this week! Please share this episode with all the mamas you know.
Could you do me a favor? Would you please subscribe and leave a 5-star review so that other mamas can find out about this podcast!
I am here to remind you that YOU MATTER. Your feelings, desires, unspoken needs, and all of you have a purpose. I am here to walk with you and to cheer you on. I believe in you.
YOU CAN GET THROUGH THIS SEASON! So let's rediscover our true selves, reclaim our time, energy, care for ourselves to be the woman we want to be, and most of all, THRIVE. So let us rise and show up as a better version of ourselves!
Let's do this!
Jenny