Episode 34: Perspective, Strength & Faith with Sylvia Farbstein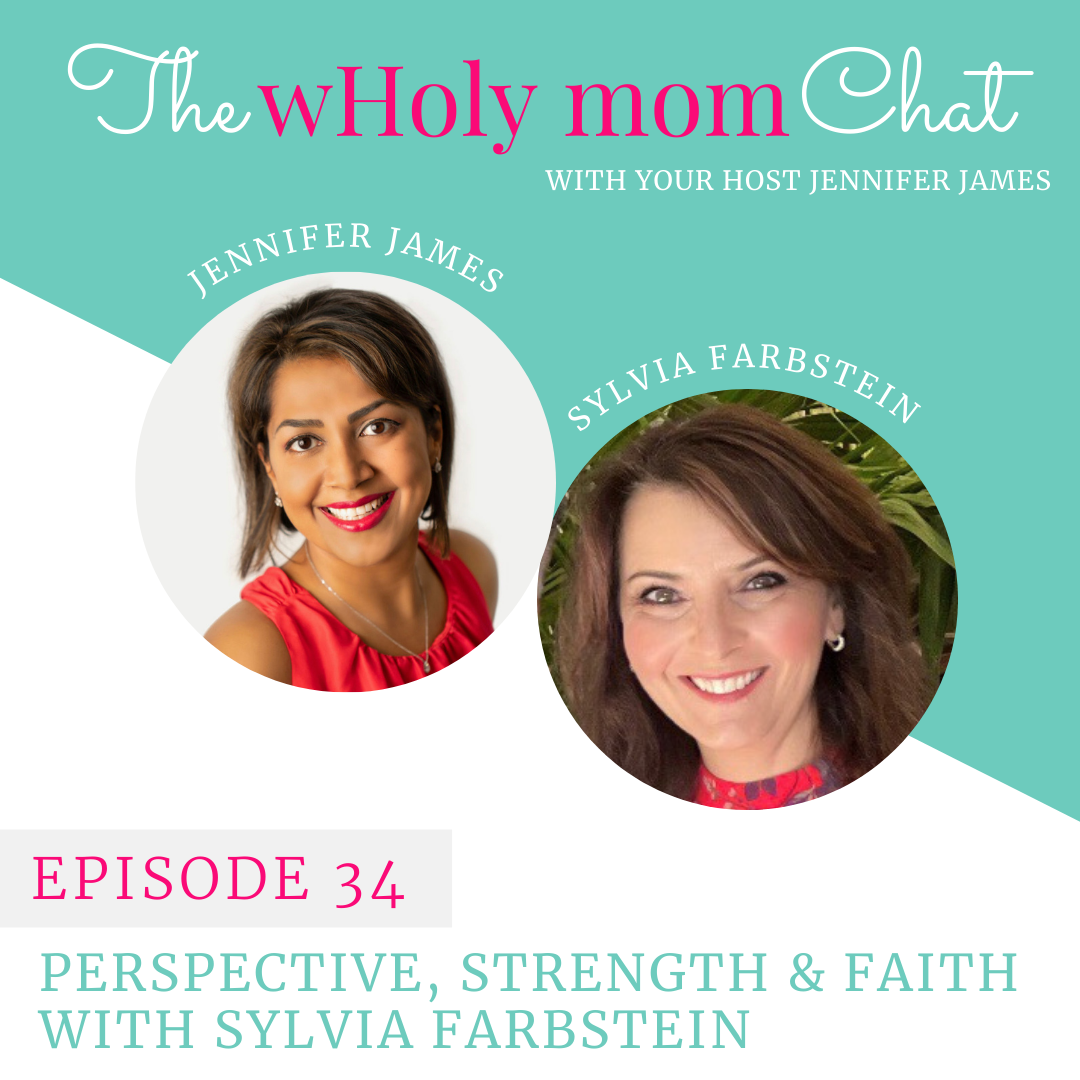 Sylvia's whole life changed when her young son, Brandon, was diagnosed with a rare form of dwarfism called metatropic dysplasia at the age of two. In this episode of the WHoly Mom Chat, Jenny talks to Sylvia Farbstein, Brandon's mom, branding strategist, and sought-after speaker. We talk about the importance of modeling positive behavior, growth opportunities in our education system, and how we can help our children to become independent adults.
Listen in to learn more about:
Sylvia's journey about how she navigated Brandon's diagnosis.
The growth opportunities in the education system.
Treating each child as a unique individual with distinct attributes and gifts.
Lessons Sylvia learned along the way while dealing with several challenges in life.
The importance of taking care of your own mental health, especially when you are a caregiver.
Sylvia Farbstein has spent the last 2 decades learning how life presents us with unexpected twists and turns that can shake us to our core and stop us in our tracks. It is a matter of having a growth mindset, one that she adapted, to utilize the challenges as a catalyst for an exciting change. Her professional world took a leap from the predictable and defined realm of private banking in New York City to one of few answers and no blueprint when her son, 21-year-old Brandon, was diagnosed with a rare form of dwarfism at the age of 2. Their experiences navigating a world not built for somebody like him prompted them to seek out ways to neither be confined nor defined by limitations, perceived or otherwise. This has led to an entrepreneurial career path for both mother and son that has impacted millions of lives. Sylvia is passionate as a speaker to share ways to embrace uncertainty with a sense of curiosity rather than getting stuck in fear.
To connect with Sylvia –
Linked In – https://www.linkedin.com/in/sylviafarbstein
Instagram – https://www.instagram.com/speakbeyondwords/?hl=en
Facebook – https://www.facebook.com/speakbeyondwords/
Brandon's book: A Kid's Book About Self-love
Brandon's Instagram: https://www.instagram.com/farbstein/
To Connect with Me, Jenny:
My Website: https://www.wholymom.com
Follow me on IG: @wholymom or Facebook: facebook.com/wholymom
Have Questions? Send me an email at: info@wholymom.com
To support the show, use Paypal Or Venmo: @wholymom
I want to take a moment to let you know about my coaching services! My mission here at WHoly Mom is to empower women to find and nurture their true selves through the transformation of mind, body, and spirit. I focus on your individual needs and your specific situation with my coaching clients. I am currently accepting new clients.
Thank you so much for joining me on The WHoly Mom Chat this week! Please share this episode with all the mamas you know.
Could you do me a favor? Would you please subscribe and leave a 5-star review so that other mamas can find out about this podcast!
I am here to remind you that YOU MATTER. Your feelings, desires, unspoken needs, and all of you have a purpose. I am here to walk with you and to cheer you on. I believe in you.
YOU CAN GET THROUGH THIS SEASON! So let's rediscover our true selves, reclaim our time, energy, care for ourselves to be the woman we want to be, and most of all, THRIVE. So let us rise and show up as a better version of ourselves!
Let's do this!
Jenny