Episode 29: Taking Inventory with Leah Coleman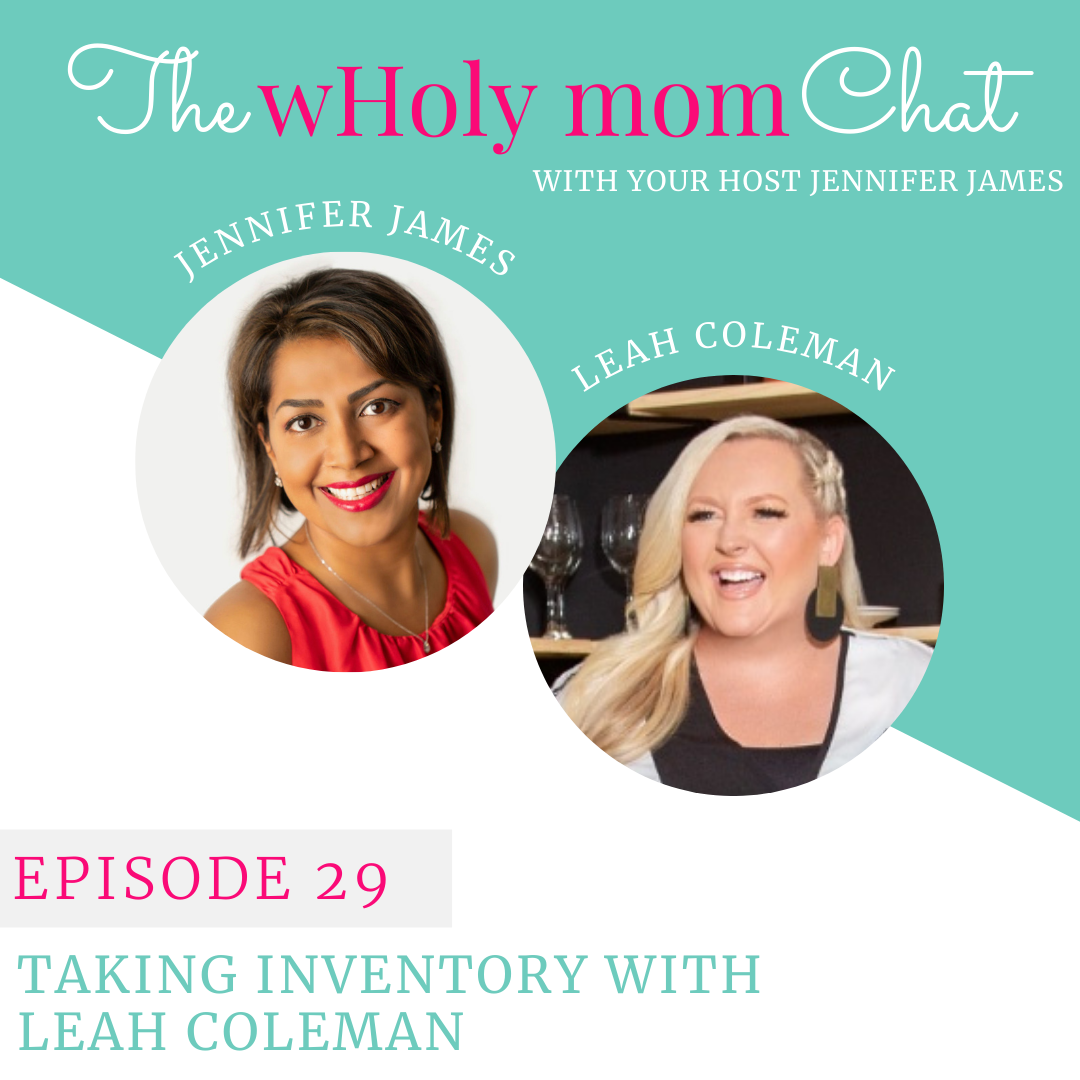 Every day when we see friends, coworkers, or even strangers, we ask them how they are doing? It comes second nature to us to question others, but have you taken a moment to ask yourself that recently? Instead, we go through our daily list of tasks, take care of everyone else, and never take some time to check in with ourselves. We just keep moving from one thing to the next, hoping it will take us in the right direction. You can't know what you need to change if you don't know all the information, right?
Today on the WHoly Mom Chat, I'm talking with my friend Leah Coleman on how we can take an inventory of our life to help us uncover the reason for the overwhelm or anxiety. Leah Coleman is a real estate agent and entrepreneur. She is loves building community and assisting others to figure out life's biggest & smallest decisions to seize the moment, seize life, and seize the real estate market in her hometown of Richmond, Virginia. Her background is in all things real estate, retail management, banking, community leadership, and volunteerism.
Listen in as we discuss:
Leah shares her personal journey of taking inventory to improve her life
The message that she received from God and how it changed her life.
Practical advice on how to take inventory in various areas of your life
RESOURCES –
How to Connect with Leah
Facebook: facebook.com/askLeahColeman/
To Connect with Me, Jenny:
My Website: https://www.wholymom.com
Follow me on IG: @wholymom or Facebook: facebook.com/wholymom
Have Questions? Send me an email at: info@wholymom.com
To Support My Podcast, use: Paypal Or Venmo: @wholymom
I want to take a moment to let you know about my coaching services! My mission here at WHoly Mom is to empower women to find and nurture their true selves through the transformation of mind, body, and spirit. With my coaching clients, I focus on your individual needs to your specific situation. Together, we create a personalized plan to help you meet your goals. These sessions can take place in person or virtually. I am offering all my podcast listeners $50 off any coaching package with the code "50off," So shoot me an email at info@wholymom.com with 50off in the subject line, and let's book your FREE discovery call today!
Thank you so much for joining me this week on The WHoly Mom Chat! Please share this episode with all the mamas you know. Could you do me a favor? Would you please subscribe and leave a 5-star review so that other mamas can find out about this podcast!
I am here to remind you that YOU MATTER. Your feelings, desires, unspoken needs, and all of you have a purpose. I am here to walk with you and to cheer you on. I believe in you.
YOU CAN GET THROUGH THIS SEASON! So let's rediscover our true selves, reclaim our time, energy, care for ourselves to be the woman we want to be, and most of all, THRIVE. So let us rise and show up as a better version of ourselves! Let's do this!
Jenny