Episode 25: Thriving in Motherhood with Danielle Gannon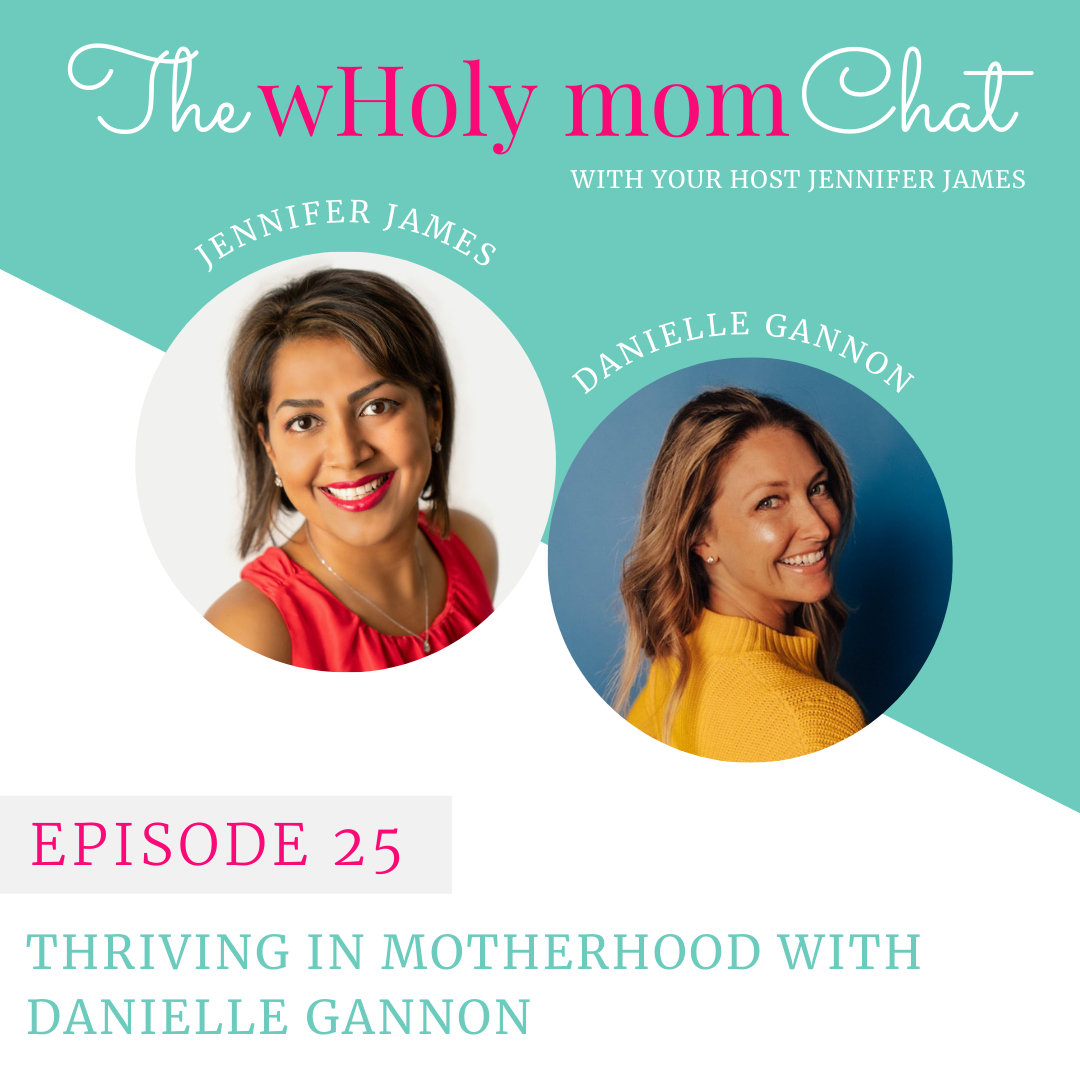 "Having kids—the responsibility of rearing good, kind, ethical, responsible human beings—is the biggest job anyone can embark on."
– Maria Shriver
Even in the best of situations, motherhood is hard. You take on the responsibility of raising your kids to become good and decent adults and want to do the best job possible. Many times, you can lose your own self in the needs of your family. You cannot thrive when you feel like you are not surviving. When you are in a stress response you cannot thrive and live mindfully into your higher values. In this episode of the WHoly Mom chat, I sat down with Danielle Gannon, a mom of 3 kids, and an entrepreneur of 2 businesses to discuss her journey of finding and thriving in motherhood.
Listen in as we discuss:
Danielle shares her personal journey of going through a separation and recognizing the red flags that something had to change.
How the unhealthy marriage affected her health and her children.
Danielle offers practical advice on how to manage the struggles and ways that she personally handles them.
The importance of understanding that you are in control of your own life
Danielle is a mom to 3 children, a co-owner of an organic grocery store, and co-founder of the Red Barn Homeschool (a local school held in a barn on 30 acres in Bucks County, PA). Additionally, she is also the Founder of Local Spotlight with Danielle, which is a local marketing company focused on connecting local businesses to the community through video interviews and social media management.
RESOURCES:
Connect with Danielle and find out more information about her:
Instagram
Facebook
LINKS
You Can Heal Yourself by Louise Hay
Follow me on IG: @wholymom or Facebook: facebook.com/wholymom
Have Questions? Send me an email at: info@wholymom.com
I want to take a moment to let you know about my coaching services! My mission here at WHoly Mom is to empower women to find and nurture their true selves through the transformation of mind, body, and spirit. With my coaching clients, I focus on your individual needs to your specific situation. Together, we create a personalized plan to help you meet your goals. These sessions can take place in person or virtually. I am offering all my podcast listeners $50 off any coaching package with the code "50off," So shoot me an email at info@wholymom.com with 50off in the subject line, and let's book your FREE discovery call today!
Thank you so much for joining me this week on The WHoly Mom Chat! Please share this episode with all the mamas you know. Could you do me a favor? Would you please subscribe and leave a 5-star review so that other mamas can find out about this podcast!
I am here to remind you that YOU MATTER. Your feelings, desires, unspoken needs, and all of you have a purpose. I am here to walk with you and to cheer you on. I believe in you.
YOU CAN GET THROUGH THIS SEASON! So let's rediscover our true selves, reclaim our time, energy, care for ourselves to be the woman we want to be, and most of all, THRIVE. So let us rise and show up as a better version of ourselves! Let's do this!
Jenny