Episode 22: Sleep Hygiene with Brittney Stefanic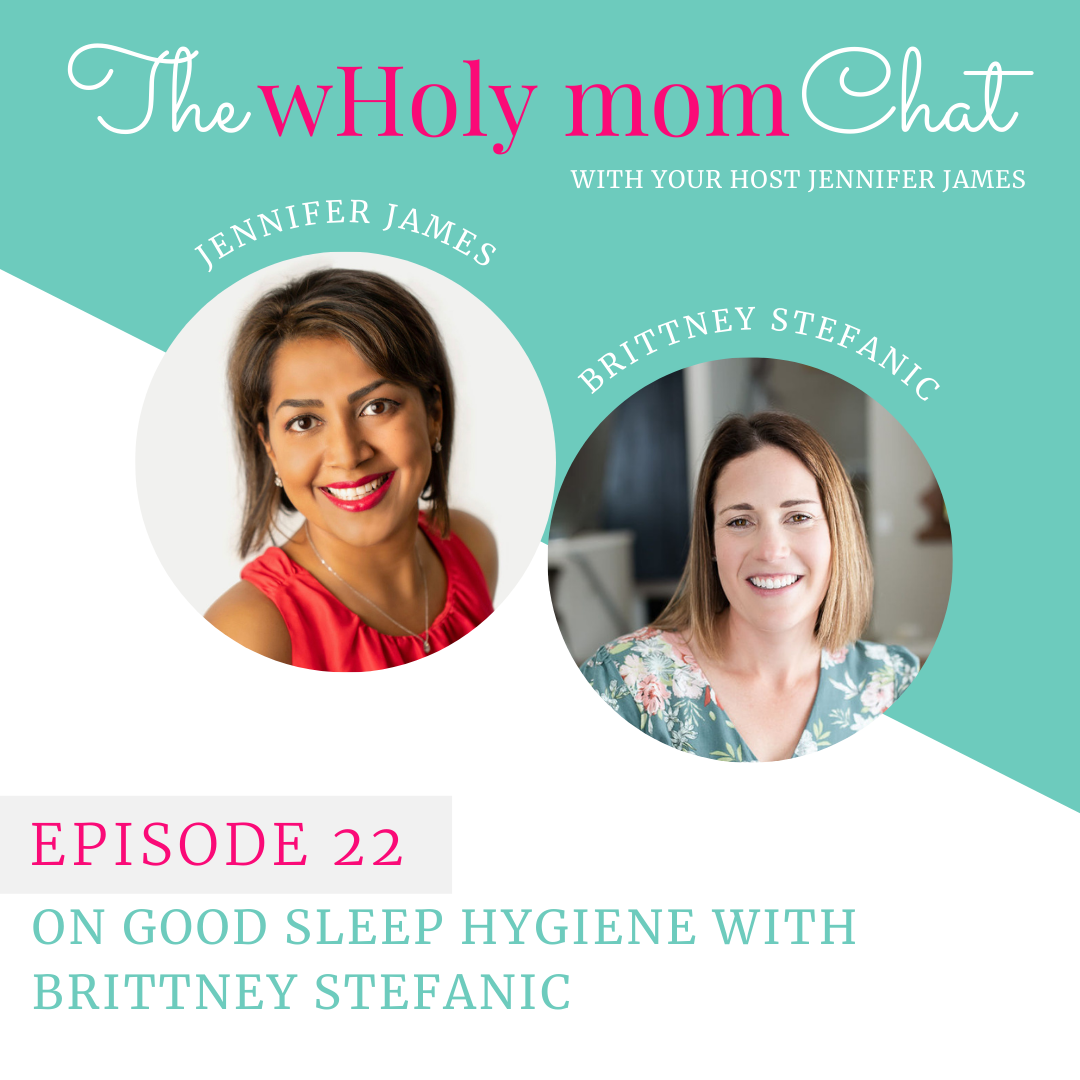 Did you know that a lack of adequate sleep can also trigger the symptoms of postpartum depression and sometimes even worsen it? Getting enough sleep is essential for helping us maintain optimal health and well-being. When it comes to our health, sleep is as vital as a healthy diet and regular exercise. A good night's sleep can reduce fatigue and re-energize us to handle whatever parenting challenge is thrown at us the next day without it becoming too overbearing. In this episode of the WHoly Mom Chat, I chat with Brittney Stefanic, a Certified Adult Sleep Specialist and CEO of Sleeper Teachers, to discuss why sleep hygiene is vital for our kids and ourselves.
Brittney Stefanic is a science geek + lover of sleep + Enneagram 1. She believes deeply that sleep is a superpower, and that you need more of it whether you are a stay-at-home mom, business owner, or corporate CEO. Brittney views sleep as the ULTIMATE form of self-care, and she loves helping families around the world get more of it to continue living healthy and thriving lives. In addition to founding and growing Sleeper Teachers, a whole-family sleep consulting agency with consultants around the US, Brittney is a mama to 4-year-old Lincoln. Linc was the inspiration for the start of her business, and he continues to be her "why"!
Listen in as we discuss:
Brittney shares her journey as a first-time mom and what led her to become a sleep consultant.
Why is good sleep hygiene so crucial for parents?
If you are still tired after changing your sleep routine, you may want to consider talking to your physician to find out the root cause.
Practical, actionable steps you can take to get a better night's sleep.
RESOURCES –
My Website: https://www.wholymom.com
Follow me on IG: @wholymom or Facebook: facebook.com/wholymom
Have Questions? Send me an email at: info@wholymom.com
Connect with Brittney and find out more information about her:
Website:https://sleeperteachers.com/
Email: brittney@sleeperteachers.com
IG: @sleeperteachers
Pinterest: @sleeperteachers
I want to take a moment to let you know about my coaching services! My mission here at WHoly Mom is to empower women to find and nurture their true selves through the transformation of mind, body, and spirit. With my coaching clients, I focus on your individual needs to your specific situation. Together, we create a personalized plan to help you meet your goals. These sessions can take place in person or virtually. I am offering all my podcast listeners $50 off any coaching package with the code "50off," So shoot me an email at info@wholymom.com with 50off in the subject line, and let's book your FREE discovery call today!
Thank you so much for joining me this week on The WHoly Mom Chat! Please share this episode with all the mamas you know. Could you do me a favor? Would you please subscribe and leave a 5-star review so that other mamas can find out about this podcast!
I am here to remind you that YOU MATTER. Your feelings, desires, unspoken needs, and all of you have a purpose. I am here to walk with you and to cheer you on. I believe in you.
YOU CAN GET THROUGH THIS SEASON! So let's rediscover our true selves, reclaim our time, energy, care for ourselves to be the woman we want to be, and most of all, THRIVE. So let us rise and show up as a better version of ourselves! Let's do this!
Jenny