Episode 18: Postpartum Mental Health and Mom Rage with Dr. Jessica Kaffer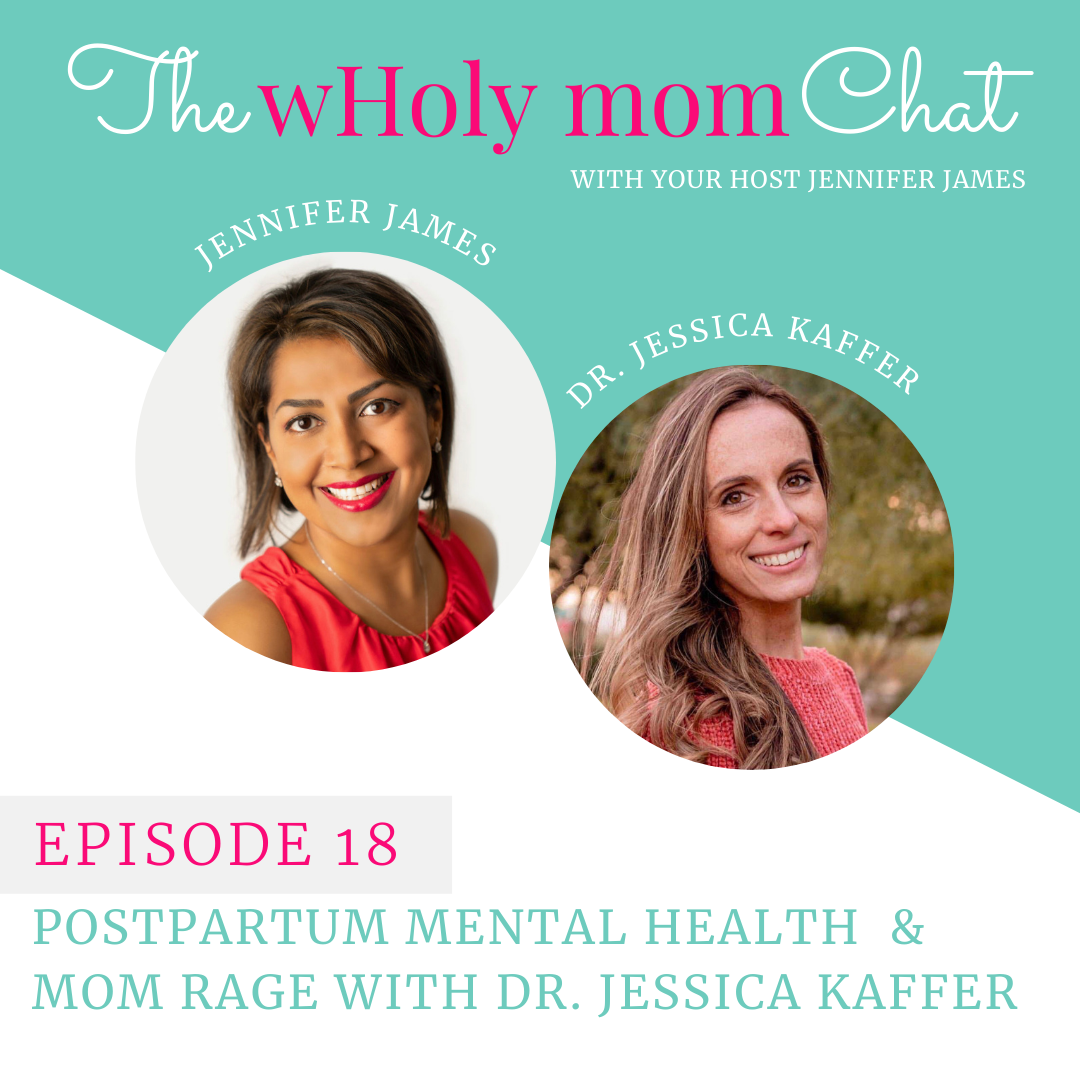 For most women, having a baby is a wonderful and joyful time. For some, it can be a very stressful, anxious time. It can also produce something that one might not expect – depression. Many mamas will experience "baby blues" following childbirth that usually last a few days up to 6 weeks. They will experience symptoms like mood swings, crying, irritability, etc. Sometimes, a more severe form occurs called Postpartum depression – symptoms include depressed mood, sleep issues, crying all the time, feeling of worthlessness intrusive thoughts, plus several other symptoms. This period also increases the risk of suicide or suicide ideation. As September is Suicide Prevention Awareness Month, this episode is dedicated to raising awareness in preventing suicide in moms.
On this episode of the WHoly Mom Chat, I talk with Dr. Jessica Kaffer, a perinatal mental health specialist. Jessica shares her journey of experiencing postpartum depression herself as well, as we take a deep dive on mom rage and not being afraid to ask for help. Listen in as we discuss:
Jessica's journey of postpartum depression following the birth of her 3rd child.
What is postpartum anxiety and the symptoms associated with it?
What is Mom Rage and tips on how to manage it in a healthy way?
Jessica shares encouragement and motivation for those mamas experiencing postpartum depression.
Note: If you or someone you know is in an emergency, call The National Suicide Prevention Lifeline at 800-273-TALK (8255) or call 911 immediately.
Dr. Kaffer is a licensed Clinical Psychologist and a Perinatal Mental Health Specialist located in the Phoenix area. She provides virtual psychotherapy sessions state-wide and in-office visits to local Arizona residents. She graduated with her doctorate degree in Psychology from Midwestern University and has experience treating various mental health disorders. Initially, Dr. Kaffer sought out specialty training specific to trauma treatment and focused much of her time on providing services to first responders and members of the armed forces. Although Dr. Kaffer still provides treatment to public service members, as well as the general population, her real passion was ignited after she became a mother.
Dr. Kaffer felt a special connection to the Perinatal Mental Health population after she experienced her own struggles in pregnancy and postpartum. After noticing a general lack of resources and education, not only related to mental health but also to other pregnancy and postpartum needs, she decided to refocus her love and attention on providing support and treatment to moms in every stage of motherhood (prenatal, postpartum, and beyond). It is her hope that through education and appropriate treatment, a community of happy and well-supported mothers will be born!
RESOURCES
Follow me on IG: @wholymom or Facebook: facebook.com/wholymom
Have Questions? Send me an email at: info@wholymom.com
Connect with Dr. Kaffer and find out more information about her:
Instagram: www.instagram.com/docmompsyd
Facebook: www.facebook.com/DocMomPsyD
Website: www.DocMomPsyD.com
Email: dr.kaffer@gmail.com
I want to take a moment to let you know about my coaching services!
My mission here at WHoly Mom is to empower women to find and nurture their true selves through the transformation of mind, body, and spirit. With my coaching clients, I focus on your individual needs to understand your specific situation.
Together, we create a personalized plan to help you meet your goals. These sessions can take place in person or virtually.
I am offering all my podcast listeners $50 off any coaching package with the code "50off," So shoot me an email at info@wholymom.com with 50off in the subject line, and let's book your FREE discovery call today!
Thank you so much for joining me this week on The Wholy Mom Chat! Please share this episode with all the mamas you know.
Could you do me a favor? Would you please subscribe and leave a 5-star review so that other mamas can find out about this podcast!
I am here to remind you that YOU MATTER. Your feelings, desires, unspoken needs, and all of you have a purpose. I am here to walk with you and to cheer you on. I believe in you.
YOU CAN GET THROUGH THIS SEASON!
So let's rediscover our true selves, reclaim our time, energy, care for ourselves to be the woman we want to be, and most of all, THRIVE.
So let us rise up and show up as a better version of ourselves!
Let's do this!
Jenny