The Importance of Getting Dressed Everyday with Jammie Baker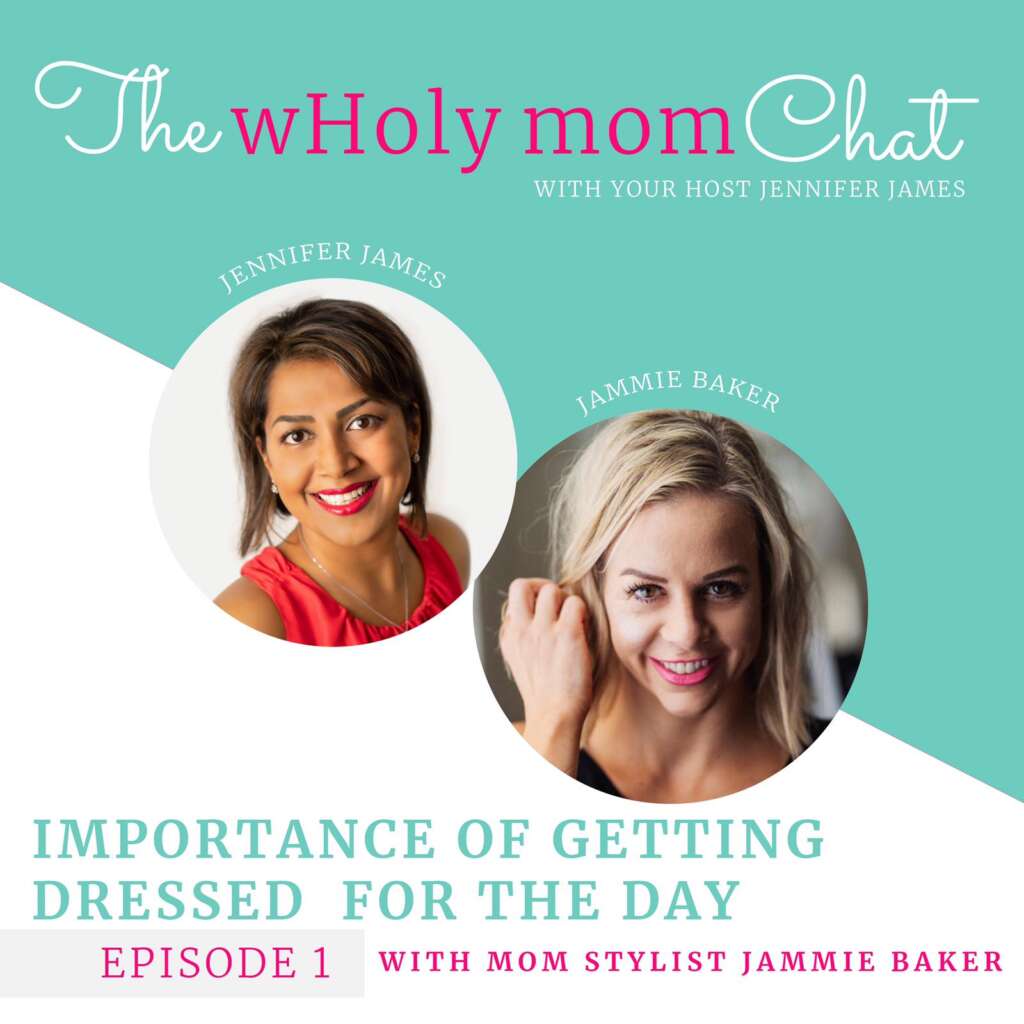 Hey Mama! I am so glad you are here! I am your host Jennifer James on The WHoly Mom Chat, and welcome to my first episode.
My mission is to empower mothers to create a new standard – feeling beautiful, living well, showing up as their best self, and setting up an excellent example for our kids who will learn far more from what we do than what we say.
In today's episode, I will be chatting with Mom Stylist Jammie Baker. Jammie is a former celebrity stylist who has styled people like Kerry Washington and companies like the NBA. She has created a virtual styling business that empowers real women–specifically, moms– to find their unique style and reach goals through her signature trademarked Momiform™ Method and Style Society Membership where she teaches how to dress for specific body shapes and gives practical styling tips.
Jammie and I chat about why moms must get dressed for the day, how it impacts our mindset, and much more. Jamie also shares with us tips that we can apply on a daily basis, no matter what stage of life we are in.
Listen in to hear us talk about :
How Jammie became a Mom Stylist and what exactly she does for women
What is a Momiform and how to create one for yourself
Mindset is so important to your identity and your style.

I think this episode is so important for all the women as we all need to feel inspired to get dressed for the day. It sets the tone for our day. I challenge you to listen to this episode and try it for yourself to see how it makes you feel.Please share this episode with all the women you know.

I hope you feel inspired to get dressed for the day after that motivating chat with Jammie.

Resources :

Jammie is offering my listeners her free style guide and Momiform body shape guides.

You can get it here : Body Shape Guide and Spring Style Guide.

Thank you so much for joining me on my inaugural episode! Please share this episode with all the women you know. Also, would you please subscribe and leave a 5-star review so that other mamas can find out about this podcast!

Our next episode will be in 2 weeks where I'll be talking with Dr. Amanda MIller and how physical therapy helps us through all phases of womanhood.

I am here to remind you that YOU MATTER. Your feelings, desires, unspoken needs and all of you have a purpose. I am here to walk with you and to cheer you on. I believe in you.

YOU CAN GET THROUGH THIS SEASON!.

So let's rediscover our true self, reclaim our time, our energy, care for ourselves to be the woman we want to be and most of all THRIVE.

So let us rise up and show up as a better version of ourselves!

Let's do this!
Jenny