Episode 39: Lex Daddio's Healing Journey with An Eating Disorder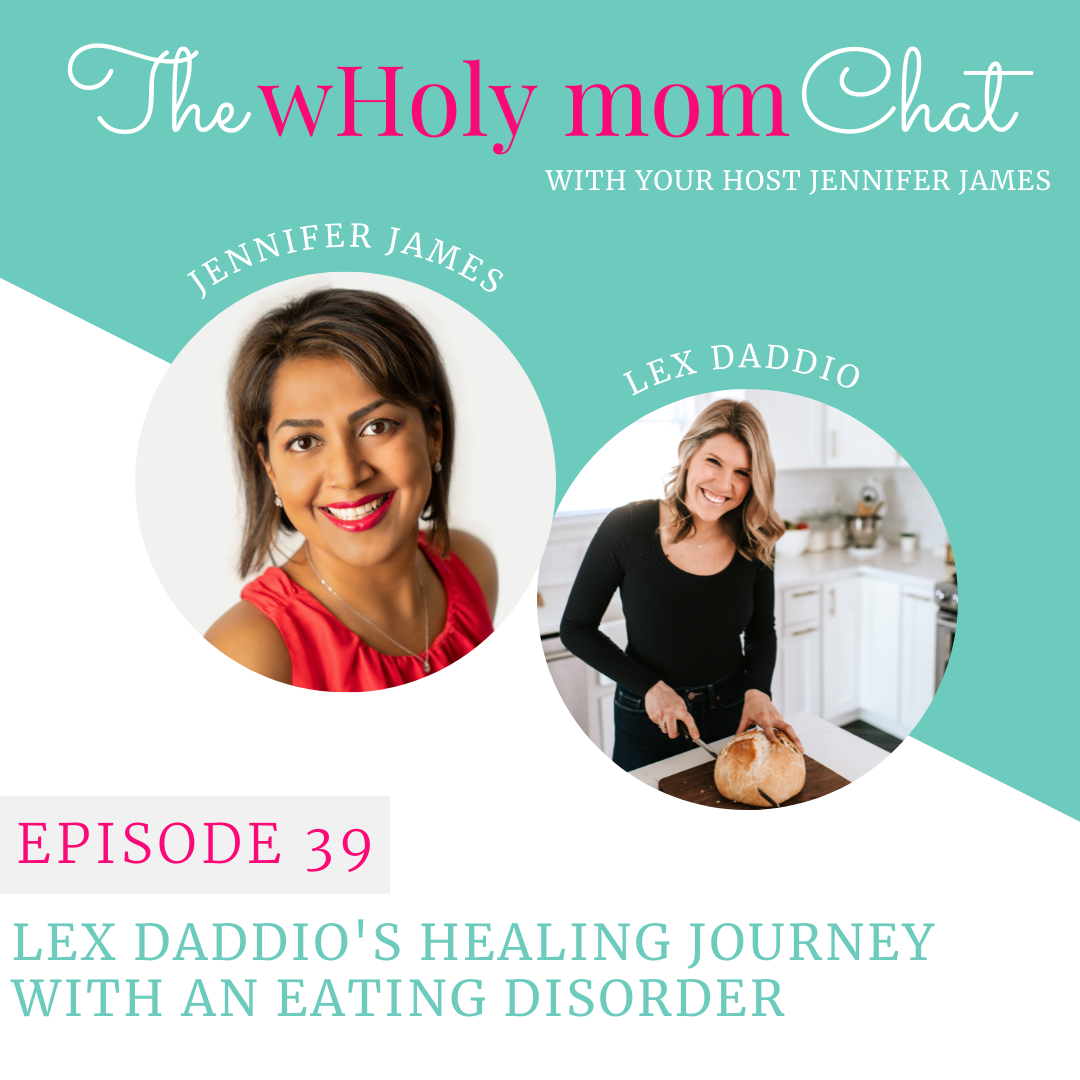 Did you know that 91% of women are displeased with their bodies? An eating disorder displays behaviors that negatively impact one's physical, psychological, and social well-being. These behaviors are persistent, and they are often associated with emotional distress.
In honor of Eating Disorder Awareness Week, I sat down with Lex Daddio to discuss eating disorders and her recovery from orthorexia. Orthorexia is a dysfunctional eating pattern based on the need to eat healthy foods to the extent that one becomes obsessed with this way of life.
Lex Daddio is a wife & mama of 2 little boys living in Richmond, VA. She's been the face behind @daddioskitchen (previously @restoring_radiance) for almost eight years. Her Instagram page began as a food diary when she struggled with an eating disorder. It led to a journey of healing, lots of new life transitions, and now it's a place where she and her husband share lots of fun recipes and real life. Her husband Thomas cooks and Lex bakes, and together they create delicious recipes to feed their family and yours!
Listen in as we talk to learn more about:
Lex shares her journey with battling an eating disorder and her relationship with food.
Celebrating small victories during recovery.
How to overcome setbacks?
The importance of a healthy body image and positive self-talk.
Practical advice on having a healthy relationship with food.
**If you are experiencing an eating disorder, please get professional help. I assure you. You will not regret it.**
To Get Support and Learn more about eating disorders, check out:
https://www.nationaleatingdisorders.org/what-are-eating-disorders
To connect with Lex:
Website: www.daddioskitchen.com
Instagram: https://www.instagram.com/daddioskitchen/
To Connect with Me, Jenny:
Follow me on IG: @wholymom or Facebook: facebook.com/wholymom
Have Questions? Send me an email at: info@wholymom.com
To support the show, use Paypal Or Venmo: @wholymom
I want to take a moment to let you know about my coaching services! My mission here at WHoly Mom is to empower women to find and nurture their true selves through the transformation of mind, body, and spirit. I focus on your individual needs and your specific situation to collaboratively create an individualized plan to get you where you want to be. I am currently accepting new clients.
Thank you so much for joining me on The WHoly Mom Chat this week! Please share this episode with all the mamas you know.
Could you do me a favor? Would you please subscribe and leave a 5-star review so that other mamas can find out about this podcast!
I am here to remind you that YOU MATTER. Your feelings, desires, unspoken needs, and all of you have a purpose. I am here to walk with you and to cheer you on. I believe in you.
YOU CAN GET THROUGH THIS SEASON! So let's rediscover our true selves, reclaim our time, energy, care for ourselves to be the woman we want to be, and most of all, THRIVE. So let us rise and show up as a better version of ourselves!
Let's do this!
Jenny