Episode 21: Nurturing Birth and Beyond with Sarah Thorpe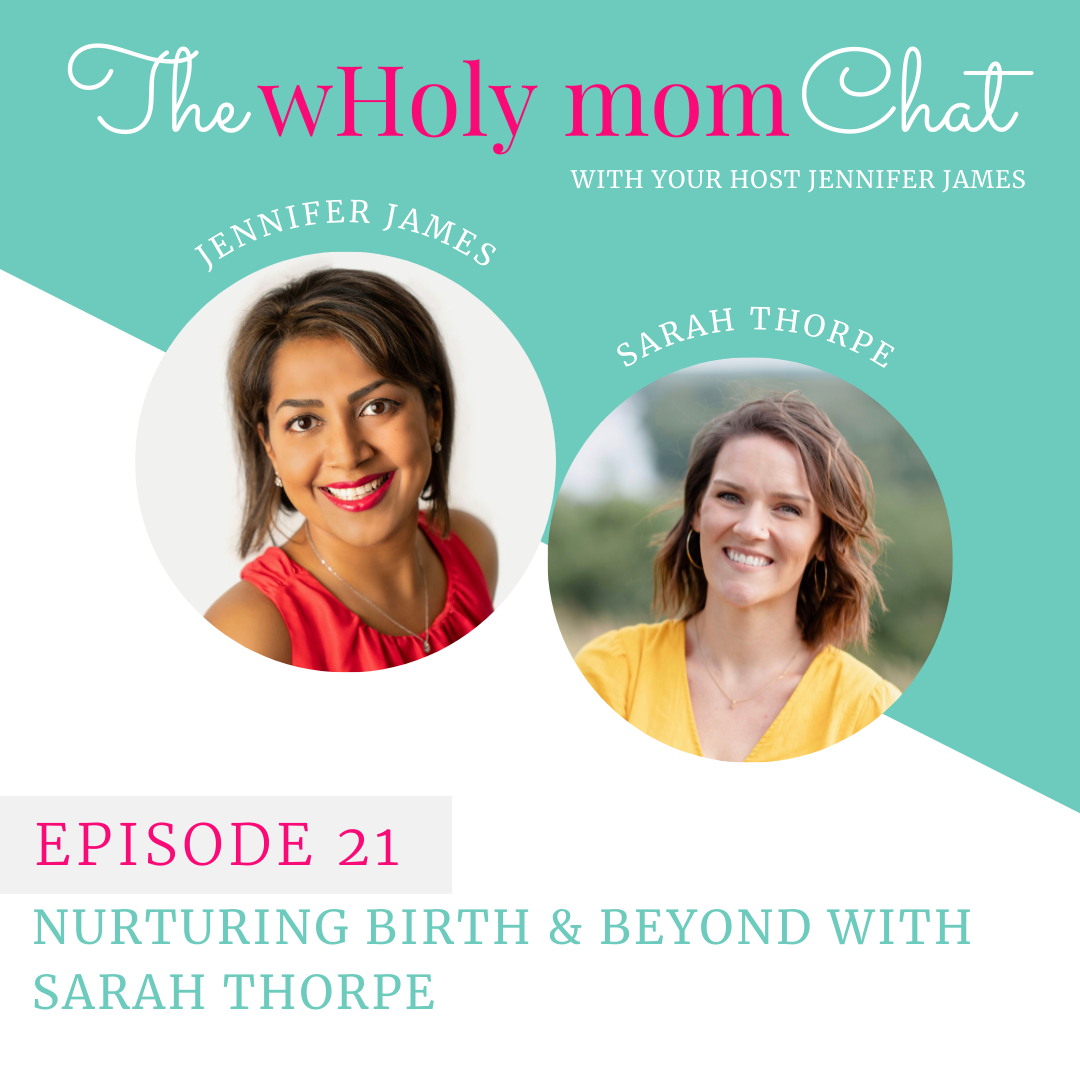 The experience of childbirth is an amazing and beautiful one. It can also be quite overwhelming. One thing that can help make it exponentially better is to hire a doula. Hiring a doula is like having an experienced travel guide while visiting a foreign country. They can help you and your partner during pregnancy, childbirth, and the postpartum period. In this episode of the WHoly Mom Chat, I sit down with Sarah Thorpe, an experienced nurse, Doula, and Childbirth Educator, to discuss the benefits and advantages of having a doula. I also share my personal experience of having a doula while pregnant with my 2nd child. Sarah Thorpe is a Registered Nurse, Certified Birth and Postpartum Doula, and Certified Childbirth Educator. She is also a mom, wife, and owner of Nurturing Birth and Beyond Doula Services, which serves the Richmond, VA, area.
Listen in as we discuss:
Sarah shares how she became a doula and childbirth educator
How to choose a doula and what to look for
How does having a doula improve the new mama experience
Practical, actionable steps new mamas can take toward their new wellness journey.
RESOURCES
Follow me on IG: @wholymom or Facebook: facebook.com/wholymom
Have Questions? Send me an email at: info@wholymom.com
Connect with Sarah and find out more information about her:
Email: sarah@nurturingbirthrva.com
Website: https://www.nurturingbirthrva.com
Find a Doula https://doulamatch.net/profile/21626/sarah-thorpe?tab=testimonials
I want to take a moment to let you know about my coaching services! My mission here at WHoly Mom is to empower women to find and nurture their true selves through the transformation of mind, body, and spirit. With my coaching clients, I focus on your individual needs to your specific situation. Together, we create a personalized plan to help you meet your goals. These sessions can take place in person or virtually. I am offering all my podcast listeners $50 off any coaching package with the code "50off," So shoot me an email at info@wholymom.com with 50off in the subject line, and let's book your FREE discovery call today!
Thank you so much for joining me this week on The WHoly Mom Chat! Please share this episode with all the mamas you know. Could you do me a favor? Would you please subscribe and leave a 5-star review so that other mamas can find out about this podcast!
I am here to remind you that YOU MATTER. Your feelings, desires, unspoken needs, and all of you have a purpose. I am here to walk with you and to cheer you on. I believe in you.
YOU CAN GET THROUGH THIS SEASON! So let's rediscover our true selves, reclaim our time, energy, care for ourselves to be the woman we want to be, and most of all, THRIVE. So let us rise and show up as a better version of ourselves! Let's do this!
Jenny