Episode 20: Tammie Mobley's Recovery from Domestic Violence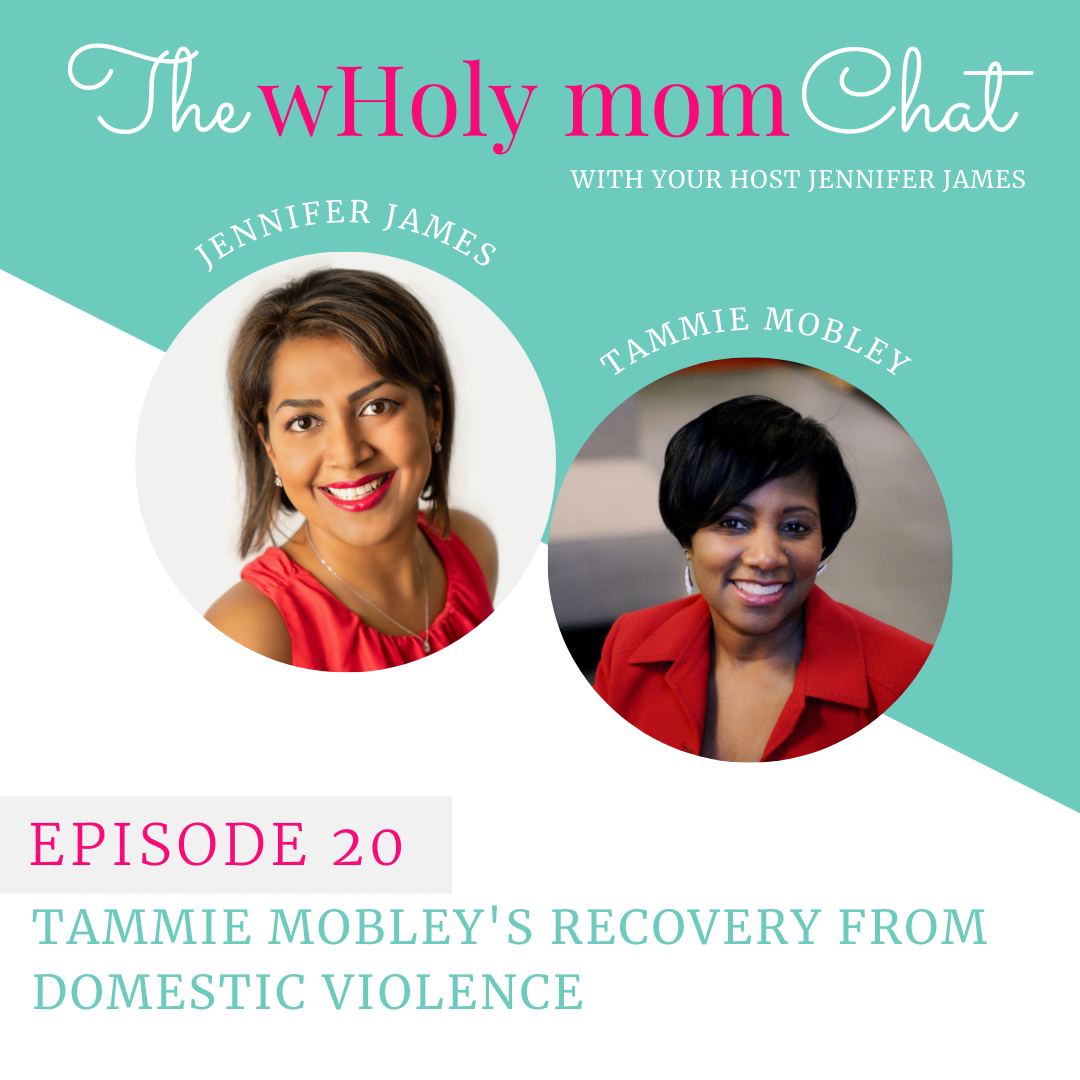 Did you know that, on average, nearly 20 people per minute are physically abused by a spouse/partner in the United States? During one year, this equates to more than 10 million women AND men. (NCADV.org) It is October, and we honor all domestic violence survivors since it is National Domestic Violence Awareness Month.

**TRIGGER WARNING** Some of the content may trigger victims and may not be appropriate for children.

On this episode of the WHoly Mom Chat, I sit down with Tammie Mobley to discuss how she overcame her trauma of domestic violence with her former husband. We also discuss red flags to look for in an unhealthy relationship, the impact of domestic violence, and how moms can equip their sons to treat women more respectfully.
Tammie is the Founder of Flawless Imperfections. Tammie has an undeniable passion for women and youth. Over the past 13 years, Tammie has empowered individuals through public speaking, domestic violence peer counseling, and workshop presentations. She has six years of experience as a Youth Program Director and program curriculum development. Tammie has trained and mentored individuals on leadership and developing non-profit organizations. She has facilitated hundreds of workshops on healthy relationships, conflict resolution, effective communication, teen dating violence, and sexual responsibility.
Listen in as we discuss:
Tammie shares how her journey developed over time and realized she was in a domestic violence situation.
The most dangerous time is when the abused victim starts to empower themselves.
How to identify the "red flags" of an unhealthy or toxic relationship.
Tammie also shares her advice for domestic violence victims and survivors.
RESOURCES
Follow me on IG: @wholymom or Facebook: facebook.com/wholymom
Have Questions? Send me an email at: info@wholymom.com
Connect with Tammie and find out more information about her:
Website: www.flawless-imperfections.com
Instagram @tammiemmobley @beyondsurvivingwithtammie @r.e.a.l_girlz
National Domestic Violence Hotline – 1-800-799-7233 or thehotline.org
I want to take a moment to let you know about my coaching services!
My mission here at WHoly Mom is to empower women to find and nurture their true selves through the transformation of mind, body, and spirit. With my coaching clients, I focus on your individual needs to understand your specific situation.
Together, we create a personalized plan to help you meet your goals. These sessions can take place in person or virtually.
I am offering all my podcast listeners $50 off any coaching package with the code "50off," So shoot me an email at info@wholymom.com with 50off in the subject line, and let's book your FREE discovery call today!
Thank you so much for joining me this week on The Wholy Mom Chat! Please share this episode with all the mamas you know.
Could you do me a favor? Would you please subscribe and leave a 5-star review so that other mamas can find out about this podcast!
I am here to remind you that YOU MATTER. Your feelings, desires, unspoken needs, and all of you have a purpose. I am here to walk with you and to cheer you on. I believe in you.
YOU CAN GET THROUGH THIS SEASON!
So let's rediscover our true selves, reclaim our time, energy, care for ourselves to be the woman we want to be, and most of all, THRIVE.
So let us rise up and show up as a better version of ourselves!
Let's do this!
Jenny