Episode 12: Practicing Mindfulness with Yedda Stancil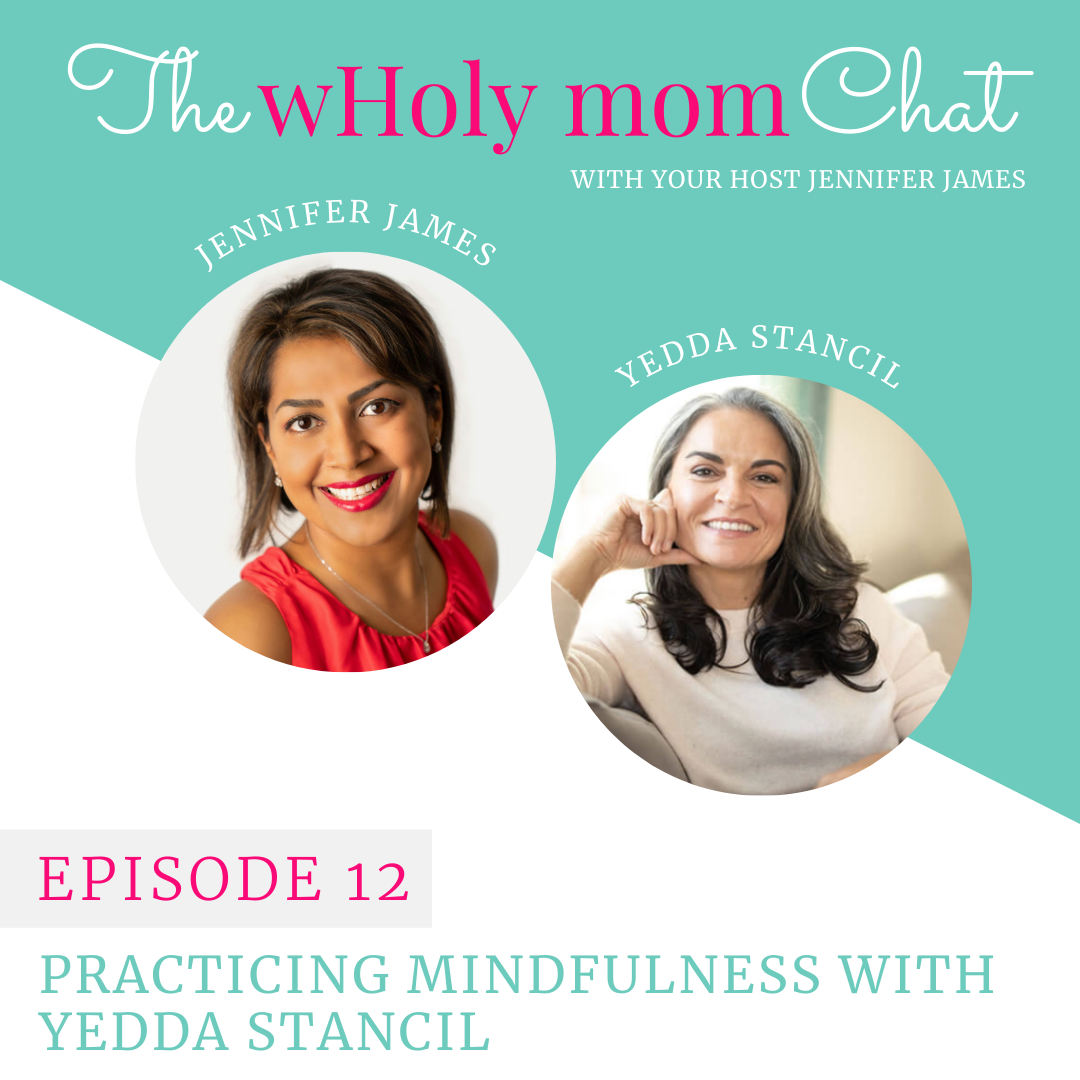 Practicing Mindfulness seems like an impossible task these days, juggling children, work, home life, etc. But guess what? You don't need to meditate or spend time on the top of a mountain in Colorado at some fancy retreat to practice Mindfulness. Although that does sound amazing, doesn't it? Mindfulness is all about paying attention to how you're feeling in your body, mind, and spirit.
In today's chat, I sat down with Yedda to explore her motherhood journey that led her to where she is currently, how we as moms can practice mindfulness with ourselves and our children. Yedda also shares her book, Shut Up and Sit, and her advice for other mamas.
Yedda Stancil is a consciousness coach and consultant. For over 25 years, she's supported clients in changing their behaviors and growing their businesses through narrative coaching, neuroscience, behavioral coaching, leadership training, integrative development, and mindfulness meditation. She holds an MBA and is a dynamic, creative executive leader, a results-oriented entrepreneur, and the co-founder of Mindfulness Bar—a fun and adventurous place to experience self-actualization in Richmond, Virginia. She recently launched her book: Shut Up and Sit: It is an extensively researched, delightfully sassy, power-packed guide to awakening, awareness, and personal transformation, illuminating the foundation of Yedda's innovative coaching process.
Yedda's own road to leadership, mindfulness, and personal development began at the feet of four masters: studying leadership from Ken Blanchard, entrepreneurship from Cameron Herald, Mindfulness from Deepak Chopra, and integrative development and narrative coaching from David Drake.
Listen in as we discuss:
Yedda shares her motherhood journey and adapting a love-based approach which included becoming an entrepreneur.
Keep trying new things and see what works, then fix the things that don't.
Why mindset is essential and the practices of narrative coaching.
I want to take a moment to let you know about my coaching services!
My mission here at Wholy Mom is to empower women to find and nurture their true selves through the transformation of mind, body, and spirit. With my coaching clients, I focus on your individual needs, to understand your specific situation.
Together, we create a personalized plan to help you meet your goals. These sessions can take place in person or virtually.
For my podcast listeners, I am offering $50 off any package with the code "50off" So shoot me an email at info@wholymom.com with 50off in the subject line, and let's book your FREE discovery call today!
Resources :
Connect with Yedda and find out more information about her, her book, or her coaching!
Website: YeddaStancil.com
Follow her on IG: @yeddastancil or Facebook: www.facebook.com/yeddastancil
Shut Up and Sit  – Buy eBook now or Buy the paperback book here
Join the Shut Up and Sit community: www.suascommunity.com
YouTube: https://www.youtube.com/c/YeddaStancil
Podcast: https://yeddastancil.com/suaspodcast/
Follow me on IG: @wholymom or Facebook: facebook.com/wholymom
Have Questions? Send me an email at: info@wholymom.com
Thank you so much for joining me this week on The Wholy Mom Chat! Please share this episode with all the mamas you know.
Could you do me a favor? Would you please subscribe and leave a 5-star review so that other mamas can find out about this podcast!
I am here to remind you that YOU MATTER. Your feelings, desires, unspoken needs, and all of you have a purpose. I am here to walk with you and to cheer you on. I believe in you.
YOU CAN GET THROUGH THIS SEASON!
So let's rediscover our true selves, reclaim our time, energy, care for ourselves to be the woman we want to be, and most of all, THRIVE.
So let us rise up and show up as a better version of ourselves!
Let's do this!
Jenny